Hello!
            Sorry for the radio silence, but things are still progressing in Ellen Land! Gearing up for the summer, I did the Texas200, and if you're on my social media, you've already probably read all of that. I've attached all the text and photos I've posted about the TX200 at the end of this for those who don't have social media.
            Up next is the MR340 in July, a nonstop canoe/kayak race down the Missouri River. Then in August, I'm scheduled to travel to the UK to do a three-part trip consisting of:
            1) Sea school, where I will earn my RYA (Royal Yachting Association) certification and learn essential sea skills, such as open water survival, radio operations, navigation, port entry, and more!
            2) Roxy Row, where I will row in a 12-man ocean rowboat (Roxy) 5 days around the Isle of Mull in Scotland. This will be my first time rowing at sea, so I'm doing it as part of a 12-man team in a boat built and run by the same company who is building my ocean rowboat.
            3) A personal row, where I will take my boat out solo for around 5 days in and around the eastern coast of England. This will be a test run for my boat, and if I have issues with the boat, the team will be right there to address any problems before I have her shipped home to the USA.
            After my boat gets home, then things are really going to get serious! As many of you may know, I've been caregiving for my grandfather since I got off the water last year. In November, this will make a full year of caregiving, and that's about the most I can mentally handle. That has been a journey of its own, and a completely different lifestyle than the one I have on the water. In the fall, I plan to leave Pápá – we will have to hire a professional caregiver at that point or arrange accommodations for a home – and move into my ocean rowboat as a live-aboard. Though I feel guilty about this, spending a year of my life keeping Pápá out of a home is the most I can offer as a granddaughter – I have to go and live my life, too. It will be hard to see what his life will be without me, but I have done what I can do. I'm sure he would understand. I'm grateful for the time I've had with him, and we have grown close. Though we have had moments of frustration, anger, and confusion, we have also had some really touching moments where his love shines through and the man he once was says hello. When he goes to be with Mámá again, I'm sure both of them will be watching over me at sea.
            So stay tuned my friends – the adventures of Ellen Magellan have just begun. Funding permitting, I plan to depart from the Gulf coast after hurricane season next year, after spending nearly a year living aboard my docked boat. Thank you for following along, and a special thank you for those who have donated any amount. Every bit helps get us to sea – who knows what we will find out there, but I'll be sure to tell you about it! Another thank you for those who have sent me messages or commented on my posts telling me how I have inspired you to make moves in your own life to find adventure. These stories are perhaps one of the greatest rewards I get out of doing what I do. That is my small contribution at changing the world for the better. Keep it up, I'm rooting for you!
Until then, much love,

Texas 200 report follows
The Texas 200 is an annual sailing regatta event that runs 6 days, starting in Port Mansfield near the Mexican border and going north along the coastline roughly 200 miles to Magnolia Beach near Port Lavaca. It is a sailing event, but I'm not a sailor; I'm a rower. I decided to row the route in Edna, my faithful 17-foot aluminum Grumman canoe. This is my report of that trip.
Day 0
            I packed sort of last minute. The whole TX200 was a bit of a last-minute endeavor. Some friends from high school who had sailed it told me about it and said, "I think some people have rowed it." "Some people" it turns out meant like one. But that's all it took for me; the glove had been thrown. I had about 6 weeks to train and prepare.
            The gear was easy to gather; I still had most of it together from last year's 4.5 month expedition. I went thru it all and cut down about 1/3 of it. After all, it was only a 6 day row and I had to think more closely about weight.
            I gussied up Edna the canoe, replacing the rowing track and seat rollers and installing an additional safety line in case the one I had on her was weak from last year. Piantedosi, the makers of my rowing rig, were kind enough to send me a new track and rollers for free! I also installed large wooden handles on my oars, as the rubber grips they come with are hell on hands for anything other than short distance sprints.
            For training, I got a rowing machine. I'm busy all the time caregiving for my grandpa and don't have much time to get out in the boat. I exercised every day with either 30-40 minutes of circuit training or rowed on the machine for about the same amount of time. A week before the start, I did an 11 hour row in my canoe and then bumped up my time on the rowing machine to an hour each day. Not much training, but that's all I had the time to do.
            I loaded up everything, left my grandpa with food in the fridge, and headed for Texas. It's about a 3.5 hour drive to my parent's house in east Texas, my first stop. I spent the night there and bought my food for the trip: tuna and chicken packets, ready rice and quinoa, corn tortillas, mac & cheese, oatmeal and grits, peanut butter, cereal, electrolytes, a few freeze-dried meals. Dad had also dehydrated some apples, bananas, and jerky for me.
            The next day my parents and I headed out in two vehicles and drove to Magnolia Beach, where we dropped off my truck. We met our first TX200 sailors at JT OneStop and had lunch in the dimly lit, cigarette smoke-infused bar. Everyone was very friendly and all were surprised I was not only going alone (they thought my parents were going with me), but that I would be rowing in a canoe. Some had their doubts, and I won't lie and say I didn't have some of my own.
            I never doubted I could do it, but I wasn't sure if I would be able to do it in the 6 day timeframe. There's a lot of open water on the route, and if the wind is too strong, I'm windbound. I've got a big canoe with two 9 foot oars, and I've taken some pretty big chop in her, but when it comes down to it, she's just an open top canoe. She can only take so much, even if it's a tailwind.
            I was informed by the coordinator Matt that in order to say you've done the TX200, you have to both start and end on the same days as everyone else, and hit all 5 checkpoints. That was my challenge, and I was determined to fulfill it.
            After driving to Port Mansfield where we were to start, I set about finding a place for Edna the canoe and I to spend the night. Matt was kind enough to offer his slip for my boat. Then he offered a place to pitch a tent, then a couch, and then a bed. I ended up sleeping in his place with a handful of other sailors, my boat floating safely in the slip below. My parents had left, having gotten a hotel a town away. I stayed up a little chatting with Matt and his friends and looking at maps, but went to bed early. I slept well, despite being excited. Tomorrow the real fun begins.
Day 1
14 hours
49 miles
            My alarm went off at 0515, and I was awake immediately. Nobody else was up as I quietly made some oatmeal and did last-minute preparations. I discovered I was missing a spoon. I considered stealing one from the kitchen, but felt bad. Chuck, a sailor who had his boat parked in the slip with mine, woke up early and gave me a spare camp spoon. I ended up losing it on the first day and subsequently re-finding my own spoon. I wasn't sure what the sailors were doing up so early; they weren't going anywhere in this dead calm wind. But this was perfect rowing weather for me and I was out of the dock at first light.
            A few sailors were down at their slips readying their boats as I rowed by. One woman said, "Go get 'em, tiger" from the darkness. For some reason that made me feel loved, like my mom hollering from the sidelines as I made my way to the start line.
            The open bay was wide open, but the calm water made me feel safe. A few industrious fishermen were already out in their motor boats, and I ran my nav lights and kept my headlamp on. The first thing I did was cross the bay straight east. I knew this week was forecasting winds mostly from the NE, but didn't have specifics when. Crossing the bay to the east shore would offer shelter from the NE wind, whenever it may come.
            I've very hesitant about being away from shore in the canoe. Again, she's just a canoe, and big water looks very big from her sliding seat. But I crossed the bay, seeking comfort from the nonexistent wind. Halfway across, I encountered shallow water. I was told the bays here were shallow, but I was still thrown off guard. Fortunately, I only need about a foot of water to row in, but I have to shallow out my rowing strokes. I navigated around the shallow water and then rowed north in about 3-4 feet of water. Even though I was in only 3-4 feet of water, I was still a ways from the east shore. I didn't want to get much closer east for fear of shallowing out, so was grateful for the dead flat water. I was basically in the middle of the bay.
            I kept eyes on Port Mansfield as the day brightened, and eventually saw two sailboats pop out from the port. We kept pace with each other, paralleling the other's course. I wondered how they were sailing with no wind. I decided to abandon my plans of staying on the east shore and follow the sailboats to the land cut. I altered course to the left, heading NW until I intercepted the two sailboats. I chatted with them and rowed in loose formation with the boats. The bigger boat was called "Chicken Parts" and was kitted out with just about every luxury you can have on a sailboat. The smaller boat was "Palmetto Joy," a modest, wooden, handmade boat. Both had motors, something I didn't know most sailboats had. Shows how much I know about sailing.
            We reached the land cut around noon, a very narrow stretch of the ICW (Intracoastal Waterway). My rowing pace exactly matched their motor pace, but I had to stop to eat and eventually they pulled ahead. I enjoyed this stretch of the ICW, and enjoyed it even more as the wind began to pick up from the east. Then the sailboats really shot ahead, their sails full at last. I relished being safe from the wind and continued rowing steadily. I was determined to make as many miles as I could while I could, so only stopped once to snarf a quick 15-minute lunch. Everything else I ate on the go, chipmunk-style. Chipmunk eating, as I call it, is when you put as much food into your mouth as you can possibly fit, and then spend the next 15 minutes chewing it while rowing. I was not going to stop.
            I reached the Land Cut campsite, and both "Chicken Parts" and "Palmetto Joy" were there. The pre-established campsites served as checkpoints, but it wasn't a requirement to camp there. There was no way I was stopping so early in the day, and after saying a brief hello to "Chicken Parts," I informed them I was continuing on, and did. "Palmetto Joy" caught up to me again, also deciding to continue on. They pulled ahead and I never saw them again the rest of the time.
            It was hot in the windless ICW, but the heat has never bothered me. The monotony of the straight ICW was familiar to me after my 550 mile row on the ICW last year, and I entertained myself, singing. The hundreds of towering windmills that dominated the west shore slowly geared up after the calm morning, their behemoth fins churning gradually into the fresh east wind. A pod of dolphins showed up just as I finished singing Jimmy Buffet's "Mother Ocean." They amused me by leaping in front of a tugboat, for the pure joy of it.
            I hit a bit of a wall around 8 hours, but kept going. It went away and then I was feeling really good. A few sailboats started to catch up to me now that the wind was up, and sailed by, staring. "Where did you start?" one of them asked. I told them I was with the Texas 200 like them and they were amazed. "There goes my man card!" one of the sailors said, shaking his head and laughing.
            Eventually the land cut started to have openings into the next bay and I considered leaving the land cut early to cross to the east shore of this next bay. But the winds were out of the east, which would make for a straight headwind crossing, and blowing hard enough to whitecap. No, I'll stay in the sheltered cut for as long as I can.
            I ended up camping at the very northern tip of the land cut, at the last island before the cut emptied into open bay. I actually backtracked slightly to row around the island to the east side of it, essentially leaving the ICW and leaving me safe from tugboat wakes during the night. It was a half hour before sundown, and I set up camp on my small patch of shells I had found, pulling The Edna unnecessarily far ashore like I always do. I hadn't set up a camp in 8 months since finishing my expedition last year, but fell back into the routine like I hadn't missed a night. I've wild camped for a consecutive total of about a year and a half in various countries and on various water features, in various boats and with various gear. I was completely comfortable at my camp that night, and felt like I was finally back at home.
            The wind died down after sunset. I cooked dinner, watching the red lights on the windmills all blink in unison in the rapidly darkening horizon. There was no cell service here, so I couldn't update anyone. I had a SPOT tracker, which dropped breadcrumbs every 30 minutes throughout the day and I hit the OK button when I get to my camp. That was all I had to tell anyone who was watching my progress where I was that night. The tracker also has an SOS button on it, for which I have purchased search and rescue insurance so if I have to get picked up by helicopter, I don't have to pay a ton of money. I'm used to having no cell service, and the SPOT tracker makes me feel safe. I often enjoy not having service, but did wonder that night how my grandpa was getting along without me, if he ate dinner and took his medicine. I wondered about all the boats in the land cut, if there was a party going on at the campsite right now. I wondered who might be having a quiet alone-camp like me.
            The site had that rotting mud smell, which smelled a lot like my farts that night. I always fart when I get to my site, like my body relaxes when it knows it's home. My body was doing ok after my 14 hour row, but as I was putting away my stove I felt the rigor mortis start to creep in and knew I would be stiff tomorrow.
            As I was falling asleep, I sat up to write one last thing in my journal:
            "What a good day."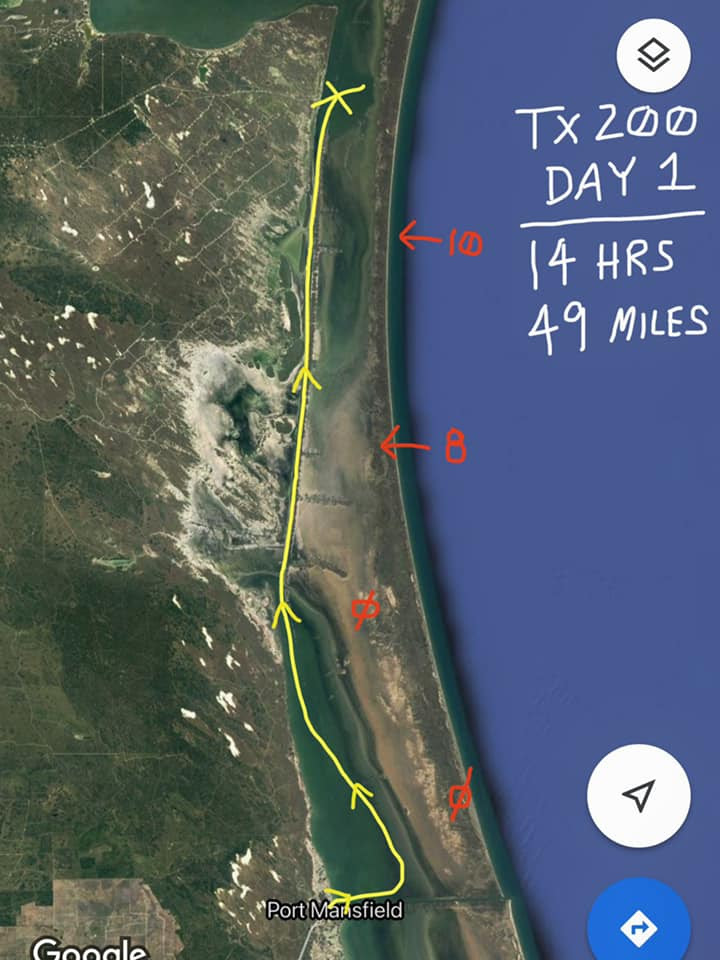 Day 2
13.5 hours
37 miles
            I woke before first light and packed camp in the dark. When I'm on expedition I usually wait until dawn for the dragonflies to come out and chase the mosquitoes away, but the bloodsuckers weren't too bad right now compared to what I dealt with on the barrier islands of Louisiana last year. And also, I wasn't on expedition – I was in race mode. The wind was calm, and I rowed straight east from my island into the flat water and the beginnings of the day's light.
            A bit of déjà vu from yesterday, crossing straight east to shore seeking shelter from the easterly wind and encountering shallows halfway across the bay. These shallows were even shallower, and I rowed in less than a foot of water at one point, my canoe making a tiny cresting wake. I almost had to get out and drag her, but escaped NW into deeper water, again finding myself in the middle of the bay, and again in dead calm winds.
            I amused myself by peering down in the clear 2 foot deep water, watching the underwater scenery change from grass to sand and back to grass again. I wondered how many people cross this section of bay, if the world below me here sees many boats come overhead. I was reminded of an adventurer friend of mine who calls me "Skinny Water," a colloquial name for shallow water in the south. Skinny Water is, right now, in skinny water.
            I wandered NW, watching Baffin Bay's open waters appear off my port while the windmill farm of the Land Cut slowly faded from view off the stern. I keep my head on a swivel while rowing, and don't even notice that I'm facing backwards. The look-back is all part of the rowing motion, like a swimmer taking a breath while doing freestyle. The other side of Baffin Bay gradually came into view as The Edna and I churned across the bay, and I landed on an island across the street from the Intracoastal. Seeking shade underneath an unoccupied camp-house on stilts, I ate a brief lunch and checked my phone. I had service, and had received a small flood of messages from friends and family who were watching my progress on the tracker and sent words of encouragement from all across the country. It is a bit incredible, with modern technology, to be in the middle of this desolate bay and receiving messages from the people I care about most in this world. Though I wasn't feeling down, it perked me up and I set out north with renewed vigor.
            I stayed in the ICW only briefly before a little wind picked up from the east, so I re-crossed the bay for the third time that day. I was able to make it all the way to the east shore this time without shallowing out, and rowed along the shoreline to a large sand dune that shone like a beacon further up the bay. I had been told about this dune, and had marked it on my map as a good place to camp.
            It was a big dune, and though I was trying to make good time, I had to stop and hike to the top. What's an adventure, without a little adventure? I took off my shoes – I wear shoes and socks while rowing – and practically skipped up the dune. This was fun! It can feel a bit like being stuck in a ditch on the water all day, and getting even a little elevation offers a whole different perspective. The Edna, still waterbound below me, would never know.
            I took a few pictures of my lonely tracks wandering up the dune, and left a note in the sand should any TX200 sailors come by: "Ellen was here." This would be an excellent place to camp, but it was barely past noon. I put my shoes back on and continued north.
            The ICW crossed the bay, and I rejoined it again on the east shore. Now the wind had made itself known from the east, and I sought shelter in the string of islands that made up the ICW's easterly boundary here. I realized I was making pretty good time, and wondered vaguely if I would see Kelly Davis soon. Kelly was the only other rower in the race, but he had started two days before everyone and launched from Port Isabel, about 35 miles south of Port Mansfield where everyone else had all begun. Kelly and I had been in contact the last month about rowing the TX200, and he had sent me an excellent set of aerial photography maps with NOAA navigational overlays, which showed water depths, locations of buoys, the route of the ICW, and a plethora of other useful information. I had them printed, laminated, and bound with a spiral and displayed the maps proudly in my cockpit area. Though they weighed more than I would like, I love paper charts and didn't mind what some might consider unnecessary weight. Consulting a tiny phone map in the bright sunlight 30 times a day is not how I like to roll. A good set of maps and a whiskey compass is my style.
            And there was a set of white oars flashing in the sun ahead of me! With my own black oars, I felt like The Edna and I were looking at a negative image of ourselves. Could it be? Kelly saw me and pulled over, posting up in a reclining position in his boat until I caught up to him and docked alongside. It is extremely rare for me to see another rower anywhere; I don't think The Edna had ever met another rowboat in all her travels down the Mississippi and along the coastline.
            Kelly was a normal guy, not super fit like I was expecting (no offense Kelly!) – but with his resume of rowing the TX200, I had imagined a athlete-type with a kitted out rowboat. But he was an average older dude in a white fixed seat rowboat made of kevlar. There were two sealed hatches on the bow and stern, and though his boat was shorter than Edna, she was wider. She looked like she could take bigger waves, but the fixed seat was a huge disadvantage compared to Edna's sliding seat Piantedosi rig. I offered Kelly a gloved hand and we shook across the gap between our boats.
            Kelly had just about had enough. Since he started early, he was already on day four, while I was only on day two. He told me he was calling it quits at the Padre Island Yacht Club, which was about 6 miles north. A shower, air conditioning, and bed beckoned and he was throwing in the hat. But he insisted he wanted me to finish, and ushered me onward. "I'm planning on it," I assured him, and rowed away from my new friend, leaving him to make a more casual row into the evening.
            I passed the Yacht Club where Kelly was planning on staying at 1830 (6:30pm). With sunset at roughly 2030 (8:30pm), it was too early for me to camp. I pressed on, with the Causeway Bridge as my intended milestone for the day. I had been watching the bridge for half the day. I like watching things appear on the horizon and slowly come into view. You start to daydream and then look back and realize more details have emerged, while the scenery you've left behind is becoming more and more indistinguishable, before disappearing altogether. It really gives you a sense that you are actually making real miles, moving across the surface of the Earth. I wondered what it would be like to row for months across an ocean without any of these visual markers of movement to entertain the mind.
            I rowed by Snoopy's Pier and Doc's Seafood and Steaks without stopping. The smell of food, the sound of music, and the sights of clean people having a nice night out at a restaurant were all enticing yet strange at the same time. I quickly become feral out here, often shunning human comforts in preference to my quiet camps on a lonely island somewhere. Besides, it was half an hour to sundown, and the restaurants probably wouldn't let me camp there  – not that I wanted to, anyway. Stopping to eat would mean I would have to find a camp in the dark, and that wasn't worth the good meal. So I rowed by, pretending not to notice the people staring at me over their beers and steak.
            Directly after the Causeway bridge, I started looking for a camp on the first island. I found a nice spot of flat sand on the north side of the small island, which faced away from the restaurants and bridge. I didn't like being so close to civilization, but with darkness fast approaching I didn't have time to be choosy. Cars could potentially see me from the bridge and since I didn't know if I was technically allowed to be camping there, I waited to set up my tent. This is one of my stealth camping techniques I'll practice when within visual range of people. I'll do everything I normally do at camp, except set up my tent. I'll cook and eat dinner, change clothes, fill water jugs, write in my journal – do all the evening camp chores without leaving my boat. That way if anyone approaches me, I can say I was just pulling over for a break. Until you set up a tent, you're not camping. I was afraid some couillon would be driving over the bridge, see my tent, and call the police without even taking their foot off the gas pedal.
            I watched the sunset from my boat and when I deemed it dark enough, set up my tent. I was grateful for my experience with wild camping, and found it to be a great advantage during the TX200. I remember when stealth camping used to be stressful, and I would camp hours before sundown for fear of not being able to find a good spot. Now, I've slept in so many different places I can sleep just about anywhere, and see potential campsites practically everywhere I go. I've made so many places home, that everywhere is home.
            I bedded down in the dark, and just as I was falling asleep saw lightning in the distance to the north. A steady breeze blew in from that direction, and it was cool. I hadn't put on the rain fly on my tent, but was so tired I decided to risk it and lay my weary body down despite all indications of approaching weather. And I was tired; two days in a row of 13+ hours rowing left my body stiff and I moved around with the slow carefulness of an old person. I also struggled to do finer movements with my hands, as my fingers were swollen and white pus-filled blisters had appeared on the tips of some of my fingers, the only part of my palms not covered by gloves. The gloves were a savior though; everything that they did cover was holding up amazingly well. I had only just recently bought the gloves, which were designed by rowers for rowers, from a company based out of New York state called The Crew Stop. I was having a lot of hand trouble before the gloves, and I don't know if I would have been able to finish the course without them. And no, they didn't sponsor me (yet) to write this – I just really like their gloves, man.
            Even though I was exhausted, I couldn't fall asleep peacefully without the rain fly on. A little sprinkle of rain started, and I finally dragged my weary body up and put on the damn rain fly. The wind blew at the tarp, making it extra challenging to secure. The wind almost seemed to be playing with the tarp, flinging its strings high into the air. But I was in no mood to play. I just wanted to go to sleep.
            And with the fly finally on, I did sleep.
Day 3
13 hours
25 miles
            I took a big dump that morning, off the stern of my canoe in the water like I always do. When I'm rowing all day, I start to have really nice, consistent, needs-my-immediate-attention poops every morning. Yesterday I had shat three different times throughout the day, as my bowels balked at the sudden rigors of constant rowing. The return of my usual solid morning poo signaled my body was rapidly re-adjusting to rowing all day every day.
            I packed up before first light, feeling an urgency to get out on the water as soon as possible. Up ahead only a few miles was Corpus Christi Bay, and she was big. I was anxious about crossing the bay; it was already windy, and the sun wasn't even up yet. I made sure to eat a solid breakfast, taped up my fingers and heels where there were blisters, and put on my sun gear. One I got out on the bay, there wouldn't be much opportunity to stop in the chop.
            I rowed the 3 miles to the bay, and even before the ICW channel opened up into the bay I was already riding swells. Gone were my two days of relatively calm rowing. Two days and nearly 90 miles later, the tough stuff began.
            There was no way I was crossing the bay directly across in an open top canoe. Even in calm winds, that would make me anxious. I would hug the shoreline and make my way up the east shore, so I hung a right upon entering the bay and started rowing east.
            Whitecaps blew in from the north, waves mature after building momentum during their nearly 10 mile journey across the bay. I was presented with direct crosswinds and the Edna and I fought to stay upright. The aluminum bow crashed up and down, shaking the whole boat when she smacked a wave trough and sent up a sprays of salt water into my face. The water was shallow, and a few heart-stopping moments my downwind oar caught on the bottom and almost tipped me over before I could reclaim my oar. But I wrestled the boat back every time, and rowed doggedly on. I checked the marker beacon that indicated the entrance to the ICW where I had come out of. It was barely any distance away; we were hardly moving at all.
            If I wasn't on a time frame and just doing an expedition at my own pace, I would have pulled over immediately and called it a windbound day. But one windbound day would mean I wouldn't be able to finish the race by Saturday, and I wasn't having that. We weren't moving fast, but we were moving. And as long as I was moving, I told myself, I would keep rowing.
            The waves were dangerous though, and if I capsized in this heavy chop in such shallow water, there was a possibility I would break an oar or otherwise damage the rowing rig. Several times I made the decision to quit, only to continue rowing. I saw up ahead along the shoreline an area of what looked like flat, calm water. I was confused as to why the water was so calm there, and theorized it might be extremely shallow. I decided to stick it through to that weird calm water, and at least cross that section. Every effort moves me forward.
            I was right, it was shallow in the weird calm spot. About a foot of water that was protected by a shallow beach. I rowed into the inlet and relished the sight of the waves crashing angrily onto the shallow water beach, unable to reach me. I wiped salt water from my eyes and took a breath, relieved to had made it past that section of rough water.
            But my day had only just begun. After rowing across my shallow sanctuary, I had to get back in the ring and continue to fight my way through the chop up the shoreline. Here at least the shoreline angled to the NE, so the crosswind wasn't quite as direct. I again considered landing after my calm water inlet and calling the day off, but decided to make it at least to the next point. When I got to the next point after slogging my way through the headwind, I said, "Just the next point, then I'll stop." Then the next, and the next, and even though I was moving less than a mile per hour, I started making miles.
            I don't know how long I rowed continuously in the waves, but after a while the rowing track started sounding bad, rough and grinding like there was sand in the track. I pulled over into a small inlet out of the wind and inspected the track. Salt. Spray from fighting the waves had gotten in the track and dried, leaving behind salt. I wiped the track clean with a microfiber cloth I have only for that purpose, and applied a small amount of mineral oil to the track. I'm not sure why mineral oil works so well, but it was recommended to me by the rower who originally turned me on to the Piantedosi rig. I find mineral oil at the pharmacy, and apparently it can be ingested as a laxative. The only downside is if you use too much in the track, the oil starts to ball up, and it also leaves behind black stains on everything. All of my rowing clothes and gear have permanent black marks from touching the greasy rowing track.
            With my seat sliding smoothly again, I poured food and water into the motor and then rowed back out into the choppy bay. I rowed about 7 more miles in this manner, with a quartering headwind and 3 foot rollers, reaching Shamrock Island in the afternoon. Another opening of the bay came into view, and now I could finally see the end. I started following the shoreline again, but since I was reaching the end of the bay, the waves were smaller, and I got up the courage to leave the relative safety of shore and cross directly to Stingray Hole, the exit that would take me to Port Aransas pass.
            Sailboats appeared off my port side, also aiming for Stingray Hole after their choppy headwind crossing of Corpus Christi Bay. I paralleled their course, able to keep pace with them because they were tacking back and forth into the headwind. They sailed fast but zig-zag, I rowed slow but straight. They made it to Stingray Hole before me though, and hung a right to go south to Port Aransas. I stopped on a shell beach and took a break, amazed I hadn't been windbound today and had made it across the bay. I was tired but proud of myself for not giving up and continuing to row, even when the waves were scary and progress tediously slow.
            The day had been so full that the morning already seemed a week away, but I still had about 6 hours of daylight left. Time to keep rowing. With no wind, I would have been able to make it to Paul's Mott today, but with this headwind I changed my camping destination to Quarantine Shore, a preselected TX200 campsite about 8 more miles away. It would be the first TX200 campsite I would camp at, and there might be other boats there. The thought of camping with other boats was exciting, and I pressed on back into the face of the inexhaustible headwind.
            I crossed the ICW – dodging a massive offshore freighter – and went north up the Morris and Cummings cut. A lot of sailboats can't go this route because a low bridge crosses the cut, too low for some of the taller masts. But there was a bait shop here at the bridge, and I planned on picking up some water there. Up the cut I was again rowing into my headwind, but the cut was smaller than the bay and the waves weren't as bad. I kept my head down and churned on, feeling myself tiring. My oars swished through a field of jellyfish, and I was briefly entertained by watching the alien-like creatures spin helplessly in the wake of my oar pulls. Even when I'm tired, I am still amused by the little things.
            The bait shop took a long time to get close; RPMs on the rowboat motor were running slow. But I made it to the shop, not sure where I would find water. Would I have to buy it, or would they let me use a hose? The trip gods smiled on me though, as there was a woman powerwashing the docks when I pulled up. I asked her if I could fill up my jugs, and she powerwashed my jugs full without me even having to leave my boat. It was probably good for the inside of the jugs to get a good cleaning anyhow, I thought. I really didn't need water; I had just enough to make it to Saturday. But if I was late by a day, I would run dry. I get water anxiety, and even though the boat was heavier, my mind was lighter as I rowed away.
            To reach Quarantine shore, I had to navigate a marshy area that would empty me out onto the backside of the camp. I got a little lost in the marsh, and shallowed out a couple of times on sharp oyster reefs. I spotted two sailboat masts across the marsh and ended up using them to navigate my way to the camp. Despite my meandering, I made it to the camp around 1830 (6:30pm). It was a little too early to camp, but after my exhausting experience crossing the bay, I was ready to call it a day.
            I rowed quietly up on the camp, surprising the two sailboats. They congratulated me on my arrival and said I was the first boat to arrive from Port Mansfield; these two sailboats had started north and were sailing their own route along the coastline. One luxury sailboat with a couple from Arlington aboard told me they were doing the "Resturant100" instead of the "Texas200," just sailing around going to all the restaurants.
            "Do you want anything to drink? Beer, wine, liquor, Coke, Sprite, Ginger ale…" asked the wife in her thick Dallas accent. I wanted a stiff drink, but standing there on shore I felt unsteady after being buffeted around all day in the washing machine that was Corpus Christi bay. I rocked slightly on my feet and said a ginger ale sounded nice.
            The other boat was a beautifully slick craft sporting two wide outriggers with mesh in between. Two men and a woman were aboard, and we remembered each other from the Land Cut all the way back at day 1. They were pulling in from the north to the campsite as I was rowing away, and I had remembered thinking that their boat looked sleek with those outriggers, like she was a long-legged lady gliding gracefully over the water without getting the hems of her dress wet.
            Two more boats arrived after me, "Patricia" and "Franklin." "Patricia" was manned by two manfriends, George and Troy. I sloshed over to their boat to say hi and was offered dinner. I sat on the bow of their boat, peeking inside the cabin. I don't have any experience with sailboats, and had never really seen the inside of one. Though it was basic, it looked cozy, my kind of space. I asked George if this boat could cross oceans, and he said probably not, not unless you were crazy. I told him about my ocean rowboat, which was smaller than this but more seaworthy. Yes, that could do it, said George, stirring delicious aromas. That could do it.
            I drank one beer aboard "Patricia," but that was all. I still had a lot of rowing to do to get to the finish line, and alcohol slows me down. I had actually quit drinking alcohol almost entirely in the 6 weeks preceding the TX200, to better train for the row. After eating the best meal I had in 3 days (thanks George!), I went back to my camp and was offered another meal by the couple from Arlington. I was full, but took the meal anyway and put it in a container for tomorrow – spaghetti and meatballs. Even if I was full now, it wouldn't be long before I was hungry again.
            "Franklin" was a tiny wooden sailboat, smaller than The Edna. They came motoring in just before dusk, a younger couple with Wisconsin accents. I liked their minimalist style, and they set up a tent near mine. I discussed wind forecasts and looked at maps with some of the crew from the long-legged boat, and was warned of some massive winds scheduled for Friday, the day after tomorrow. It looked like I might be windbound that day, but I decided not to worry about that now and just take whatever comes, whenever it comes.
            I went to bed that night with a full belly, a full camp, and a full heart. Water people – whether it's salt or fresh, by sail or oar, water people are good people.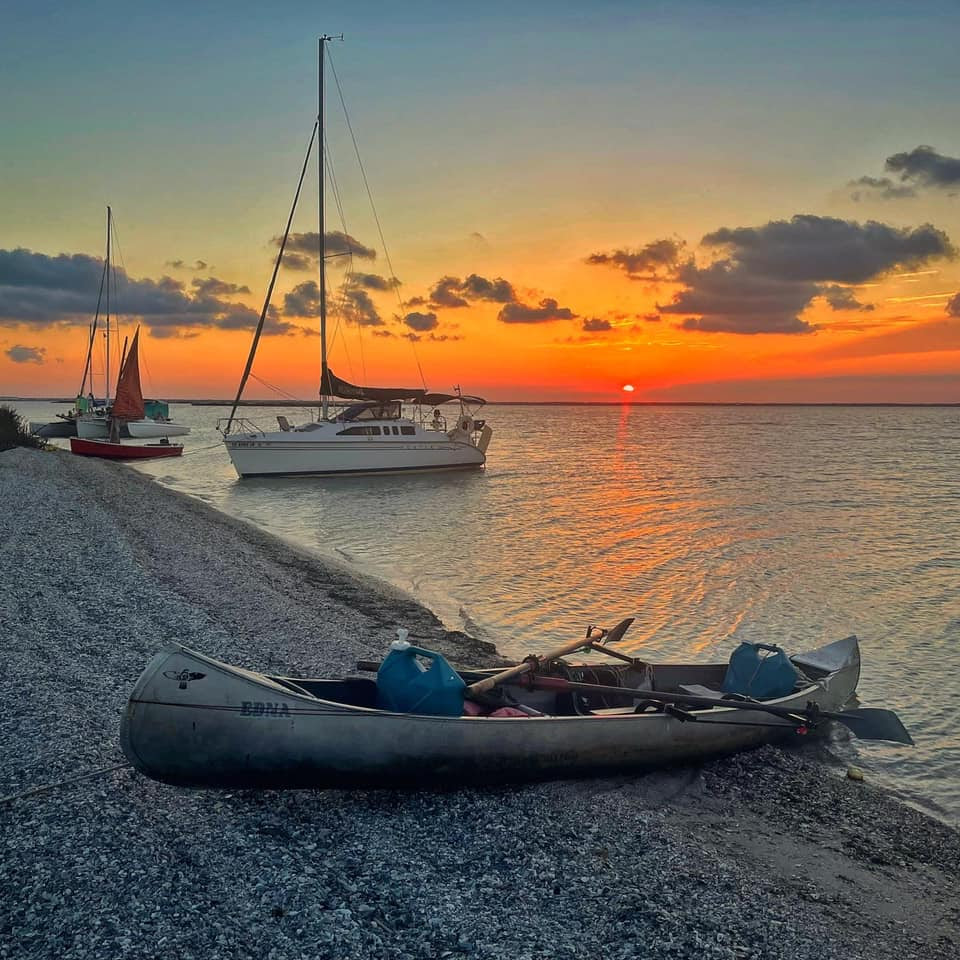 Day 4
14 hours
33 miles
            I was the first one up at camp, but the younger couple with the tiny sailboat were moving around shortly after. As I was about to push off, they offered me some instant coffee, and though I wanted it, I declined. I'm a huge coffee-drinker, but I had quit cold-turkey 6 weeks before the TX200, to try and avoid the caffeine crashes and midday slump. After having a headache for an entire month, I had kicked the caffeine and was actually feeling much better throughout the day, and could row with more sustained focus. I'm also training for a race in July called the MR340, a nonstop race 340 miles downstream on the Missouri River. I didn't sleep last time I did it – if you sleep your clock keeps ticking – and I didn't want to have any trace of caffeine dependency when I raced again this year in July.
            I set off for the 2 mile crossing to Mud Island, reaching the island before sunrise. Already a NE wind was picking up, but the chop stayed down for my crossing. I could tell though that it was going to be another windy day. With that in mind, I transitioned to the east shore and stayed glued there as I started making my miles for the day. Last night, I had considered abandoning the Mud Island route and following the north shore of the bay to Rockport, but that would add a significant amount of miles and require a 2 mile open water crossing at the windiest part of the day. Plus, with the east wind forecasted for the day, it would have been a straight headwind any way I cut it.
            Upon leaving the shelter of the island, the chop picked up, but it wasn't as bad as yesterday. Normally this kind of chop would scare me, but my tolerance for waves was fast increasing. The Edna is a very solid canoe and we made a good team, riding the waves together all morning and reaching Paul's Mott in the afternoon. Here I had a decision to make. Did I want to stay on the east shore and make my way into the headwind through Carlos and Mesquite Bay, or make a run for the ICW and bypass the bays? At camp yesterday, a sailor on the catamaran had warned me those bays were "navigational challenges," and my charts confirmed that. If you look at satellite images on Google maps of those bays, it just looks like nice open water, but my charts warned of shallow water and showed locations of reefs; the bays were crisscrossed with them. The thought of running aground on a sharp oyster reef in the middle of the bay in heavy chop sounded like something I wanted to avoid. But to get to the ICW, I would have to cross Aransas Bay, 1.5 miles. Even though it was whitecapping with a direct crosswind from the east, I decided to go for it, thinking of how glorious those 8 miles of sheltered ICW rowing would be.
            I took a breath and made a run for it, knowing how this would go. It would be one of those times where you couldn't give up, and you couldn't stop for anything. I don't care if you want a drink of water, or have to pee, or just need to wipe something from your eyes. Those oars don't leave your hands, or the boat will present broadside and a whitecap will turn her over. It's moments like these where I think if I wanted to give up right now, there would still be nothing I could do but keep rowing. If I decided once I reached shore I would never row again in my life, still right now, I would have to keep rowing. There's no magic fairy that will come and pull me off the water the moment I say I've had enough. There is absolutely nothing I can do in that moment but keep rowing. It is a scary feeling, an exhilarating feeling, and an extremely humbling situation.
            While I was crossing thinking all these things, a sailboat came by, headed east to Carlos bay. We watched each other for a while, both boats rocking erratically in the waves, and our courses almost intersected. As they were pulling away, I heard them whooping and hollering at me, but I couldn't even spare the hand to wave. I learned later it was George and Troy in "Patricia," the ones that had given me dinner and a beer the night before. I would end up rendezvousing with them again two camps from now, and we would reminisce on our windy meetup in Aransas bay.
            I made it to the ICW, and was instantly in calm water, sheltered. It was 3:00 in the afternoon, and I was hungry. I pulled over to rest after my crossing and refuel the motor. Halfway through my lunch a tugboat came by and forced me to get away from shore to avoid the wake. I've learned about these hazards of the ICW the hard way, when I was rowing last year on the ICW from the Mississippi mouth to Galveston. When a tug comes by, you want to get away from shore because it will go like this: First, the water gets sucked away from the bank, and if you don't go with it you'll get beached. This is the first sign a tug is approaching, if you haven't already seen it. Then the tug passes, and behind it here comes the water back, but it's coming back in the form of a cresting roller. If your boat is beached, all you can do is hang on and take it. I got caught in this situation a few times last year before I learned. Grudgingly, I put away my food and pushed away from shore, miffed to be interrupted during my lunch.
            It was 8 miles of sheltered rowing, and it should have been easy. But it was a mental battle now. With no waves to force me to keep going and keep my mind occupied, I became sleepy. It was sunny, hot, and windless. My butt hurt. My butt hurt so much. My butt is probably the first thing to go when I'm rowing, and I haven't found a good way around that yet. I have four different butt pads that I will exchange throughout the day, but nothing helps. Butt hurt degrades my rowing form, and makes me slouch which then causes back problems. Everything is centered around your butt, and in rowing all the power is transferred through your butt. Every time I stopped to take a break, I would stand up and peel my pants painfully away from my butt. Unsticking my pants from my butt hurt so much at one point I even checked for blood.
            The palms of my hands were doing okay, but I had three open wounds on the three biggest knuckles of my right hand where the left oar kept knocking into them in the chop. My oars cross over one another, and the right oar crosses underneath the left. This is standard setup in rowing, but not recommended for rough water rowing. My ocean rowboat, for example, will be set up where there is no crossing of the oars. It can just be hard to maintain full authority over the oars in chop, and they often will get knocked into each other. Most of the time, the left oar knocks into the back of the right hand. Sometimes the oars will ram into each other straight on and smash your thumbs – that had happened a few times also.
            My heels were painful where they rubbed the foot stretchers, and when I stood up I didn't want to put weight on them. My lower lip was busted and peeling despite copious amounts of chapstick. Without the distraction of the wind and waves, I began to pay attention to how much everything hurt. It would have been easy to stop rowing; here there was no immediate punishment of drift. But the thought of not making it to the finish line was unacceptable. I imagined what it would be like to not make it, and show everyone that I wasn't strong enough, that it was foolish to try and row a sailing route in a canoe. To not be able to do this would mean I wasn't strong enough to cross even one ocean, let alone try to row around the world. If I couldn't get through this, I wasn't worthy of any of the aspirations I had planned.
            I came to the conclusion that if I didn't finish, my body would heal faster than my pride. I kept rowing.  
            Eventually my time on the ICW was over for the day; San Antonio bay loomed, a massive bay nearly 10 miles across. I had no choice but to re-cross back to the southeast shore; there's no way I'm making a 10 mile open water crossing in an open top canoe, and especially not in a direct headwind with whitecaps. I also did not want to do another open water crossing nearly 2 miles back to the SE shore. It would have been a repeat of what I had done earlier that day to get me to the ICW in the first place: the no-option-in-the-world-but-to-keep-rowing situation. But I really had no option here either but to cross. With high winds forecasted for the next day, there was potential I could be stuck at this spot in the ICW for days.
            Knowing this, my adrenaline spiked. When I get backed into a corner and am pressured to do something I don't think is safe to do, my pilot instincts kick in and I feel like cancelling the flight. In aviation we call this "get-there-itis." As in, "That guy's got a bad case of get-there-itis…he's gotta get there!" Well, I had to get back to that SE shore, despite feeling like it was unsafe to do so. I swallowed my adrenaline and struck out south, back into the quartering headwind.
            It was exactly how I imagined it to be: nearly 2 miles of heavy chop, with the headwind trying to stop me every foot of the way. A white beach shone on the opposite shore, and I honed in on that like a bug to a light. I remember thinking how all of a sudden my butt didn't hurt, even though I was rowing hard. It's amazing how the mind can compartmentalize and focus on different things. The mind is truly one's greatest friend and enemy, and life is 99% a mental game.
            I reached the white beach I had been staring at around 1830 (6:30p), about two hours before sunset. Even though I had already been rowing for 12 hours, I decided to keep going and try to make at least a few more miles. This turned out to be a poor decision. After that nice little beach, I not only rowed into the face of a direct headwind, but followed a shoreline that offered no places to camp. Now, I can camp pretty much anywhere, so when I say there were no places to camp, I really mean there was nothing. Just marsh grass, short bushes, and mud. For nearly 2 hours I crawled my way along the shore, the headwind fighting me every stroke, staring hopelessly at the swampy shoreline. The sun was sliding quickly toward the horizon. All I could think was, "camp, camp, camp, camp…"
            I didn't know what I was going to do if the shoreline continued to offer nowhere to camp. I considered rowing into the night, just following a compass heading. Which would have been fine except I was still fighting whitecaps. I wouldn't be able to keep an eye on the wave sets, and if I capsized in the dark then I was in a real bad situation. My other option was to pull over into an inlet and sleep in my boat. I've slept in my boat once before, and with the rowing rig in there, it's not very comfortable. Plus I didn't have a mosquito netting that would fit over me in the boat – that would suck.
            For some reason, I had thought earlier in the day that my campsite that night would be a depressing little spot. I don't know what this is – some kind of intuition – but I am often able to guess what my sites that night will look and feel like. I started getting this feeling when I went down the Mississippi, and my sites matched up with my intuition every time.
            It was a depressing little spot. The smallest beach with no protection from the wind. I pulled ashore, riding the waves onto the beach. I got out and found this little mound of oyster shells, uneven but just big enough for my tent. Surrounding the mound was marsh foliage and mud. The sun would set in ten minutes. This would have to be home for the night.
            I checked my maps – I hadn't been able to flip to the next page because of the waves – and saw a little over a mile ahead was what looked like a nice beach. In this headwind and with the state of my fatigue, that would be almost another hour of rowing. No, I would sleep on my uneven mound of oyster shells. I was done for the day.
            Even though the site was a sad little spot, once I got my tent set up and everything inside of it, it was home. A ground bird watched me warily from the marsh grass. She must have a nest somewhere nearby, and I thought to myself that nobody has probably ever camped here before.
            Despite my weariness at the situation of my camp, I enjoyed the beautiful but brief sunset. Darkness fell quickly, and I ate the spaghetti and meatballs the couple from Arlington had given me the night before. I was grateful for the ready meal; I was too exhausted to cook. I wrote in my journal by headlamp, lying on my belly or my side to write because my butt was too painful to sit on. I had taken the time to clean my butt that night, and scolded myself at not taking better care of it before. Salt from both the water and my sweat had begun to build up, making me at risk of developing salt water sores. My pants were crusty and stiff, and I rinsed them a little with some fresh water and laid them out to dry overnight. Butt care is really important when rowing, and even more important when rowing in a salty environment. I had been warned about this from ocean rowers, and told myself I need to do better once I start rowing on the ocean myself.
            I looked at my maps and realized I was nearing the end of the route; only about 42 miles remained. In calm wind, I could do that in a day. I knew I would have headwinds again the next day though, so planned to row tomorrow the 22 miles to Army Hole, an official site with tent camping that would likely have sailors there. That would put me at about 20 miles for the last day, hopefully making it to the finish in time for the BBQ lunch at 2:00. It sounded like a good plan, and I lay down to sleep.
            Even though I was tired, I couldn't fall asleep. My mind wandered past the finish line and back to my life in Louisiana. It is a life of caregiving, flying with students, sending emails, and chipping away at the never- ending to-do list that grows faster than I can cross things off. It is a life of sleeping in a stale air-conditioned house, of commuting an hour one way, of cooking and cleaning up after an old man. It is a life of dreaming of other things, of craving the sunlight and the outside, of wondering what the river is doing right now. This brief escape from that made me remember what I am doing all of that for. Out here on the water, priorities are drastically rearranged. Life becomes about the direction of the wind and the condition of the water, about the status of your gear and the health of your body. It's about maps and mileages and seasons. It's about travelling over the surface of the earth, every day in a new spot on the planet. It is a world away from life in society, and though it isn't an easy life, it is the one I have chosen to pursue. It's uncomfortable and exhausting, painful and scary – but in return for the suffering, it is also a beautiful life, with stunning sunsets, indescribable experiences, and the most soulful of moments.
            Despite my physical pain at the moment, I knew my first thought upon returning to Louisiana will be, "take me back." Take me back to when my most pressing concern is where I will sleep tonight. Take me back to worrying about if my boat is pulled far enough ashore. Take me back to 14 hours of rowing a day. Take me back to my tent, to my oars, to my boat. Take me back, take me back home…
Day 5
12.5 hours
23 miles
            I did not sleep well. The uneven mound of shells I pitched my tent on prodded my sore back, and I dreamed my boat was washed away in the waves that crashed ashore my unsheltered beach all night. The headwinds that had plagued me the last two days continued to haunt me in my sleep, and I worried about the next day's row.
            I was up before first light and on the water by the time the horizon showed the first implications of the sun's return from its daily journey around the world. The wind was still blowing, but it had calmed down some overnight and I hoped it stayed that way. After less than an hour of rowing, I began to see great campsites in on the shoreline leading to Panther Point – oh well.
            Rounding Panther Point, I passed many fishing boats. People in swim trunks and bikinis, sipping cold drinks and rocking safely high atop their motor boats. Meanwhile, I was 5 days unshowered, in long sleeves and pants, and human-powered. I used to feel slight distain for people in motor boats, but after over 5,000 miles of rowing and paddling by fishing boats in my travels, I've grown out of my youthful, selfish thoughts and come to realize I would rather hang out with these people more than the ones in their Dooley pickups that throw cigarette butts and banana peels at me while I'm on my bicycle. I can respect anyone who takes the energy to get out on the water, even with a motor. Also, the amount of people that have tossed me cold drinks and other goodies from their boats have outweighed those who blow past with their wakes; I can take their wake anyway. Like any section of humanity, there are kind people, and unkind ones. I find the good people overwhelm the bad every time. I rowed by the fishing boats, and we waved at each other with smiles.
            As I made my way peacefully along the shoreline, one motor boat zoomed close, making a direct line towards me. These guys wanted to talk, I could tell.
            "We saw you at Panther Point, and haven't stopped talking about you ever since!" one of them exclaimed, killing the throttle. I stopped rowing and docked my oars, not minding at all the friendly, curious people. If I was in a motor boat and saw me row by, I would want to stop and talk to me, too! The two men and a woman aboard had all sorts of questions, and were impressed even though I had been rowing for only 5 days – small cheese compared to the length of my usual expeditions. They asked about my future, and I told them about my ocean rowboat and gave them my website. I was given in return a business card ("Contact me later!"), two delicious sandwiches, a cold Coke, and a small bag of chips. The gesture in itself fueled me just as much as the food. They motored away, still shaking their heads. 
            San Antonio bay to the north of me was coming to an end, and I was approaching Hidden Pass, a TX200 campsite. With it being high noon, I didn't expect anyone to be there. But I did want to pass by the campsite, because it served as a checkpoint for the route. My goal for the TX200 was to start and end within the 6 days' time frame, and hit all the checkpoints. Hidden Pass was a north-facing camp, and I didn't want to round the island to land on the unsheltered north side, preferring to stay sheltered on the south side in South Pass Lake. Would it still count as reaching the checkpoint it I landed on the south side? I saw a mast rocking to the north of the island, and decided to make a land approach to the checkpoint, and see who's home.
            I pulled Edna ashore and walked across the small section of brush to the north side of Hidden Pass to the beach. The two people with the sailboat were a daddy-daughter team, the crew of the "Makai." They didn't seem surprised at all to see me – almost like they were expecting me – and called me by name even though I hadn't met these people before. Apparently they had been following my travels, and I was glad to have met them. They were also associated with the Texas Water Safari, and it was good to be around people who know the suffering of human-powered boating. We chatted for a bit – the daughter taking pictures – and we all walked across the island back to The Edna. They said they would pass the word that I was nearing the finish line, and to expect me at the BBQ at the end – save a plate for me!
            I rowed for a little bit, but the sandwiches given to me from the motor boat were calling my name. I pulled over, wolfed one down, and drank the Coke before it lost its coldness. Continuing along the shore, the wind died down and though it was still a headwind, I was rowing in the calmest water I had been in days. With the next campsite less than 10 miles away, and only a 20 mile day to the finish line the next day, I was starting to feel like I had kind of gotten this cat in the bag. For the first time since I had started, I relaxed a little. I took more breaks than I had been, just because I could. The last two days of rough water were behind me, and I could feel the finish line in my future. It was a bittersweet feeling – despite the suffering that comes with rowing 14 hours a day, I still didn't want to be anywhere else.
            I reached Army Hole around 6pm, and though that was only a little over 12 hours of rowing – a shorter day for me – I was ready to dock. Army Hole is an official campsite, with picnic tables, pavilions, and soft green grass. Someone saw me approaching and gestured me in – it was George and Troy, the crew of "Patricia!" It was nice to start to see people I had met before. It gave me a sense of community on the water, a belonging among boats. Troy gestured me over.
            "You see that building over there?" he asked conspiratorially. "That's a SHOWER." he proudly stated. I did take Troy up on that shower, and gave my butt a good cleaning as well as my salty pants. I emerged feeling a little more human, and cocked back in my legless camp chair with the small group of sailors that had formed under one of the pavilions. There were two other sailboats there other than "Patricia," one with a broken mast who would have to motor the last 20 miles tomorrow. We all sat around and drank beers and George graciously gave me dinner again. George also took my boat out for a row. Though I trusted him with my boat, it was strange to see my little world getting rowed away, and I was struck by how small she looked out there. That boat is the closest thing I have to a sense of home. Though she's nothing but a piece of aluminum in the shape of a canoe, she is so much more to me than an object. She has been instilled with the energy of thousands of miles of water, and has created a living presence of her own. For many months and many miles, she has been the nearest thing to another presence in my many lonely campsites. Quite simply, I love that boat.
            The sun began to set, and one by one our little group began to get quieter, watching the sun. Almost reverently, we all became completely silent when the last seconds of the sun disappeared over the horizon. It was not necessary to tell everyone to be quiet. It was a human moment, where we were collectively humbled by the departure of the life-giving sun. Despite science and technology and understanding many things about our planet and the world around us, in the end we really don't know why we're here and what the Universe is all about. The best thing we've come up with is to do what we've been doing since we've been here – respect the power which is greater than us, and simply appreciate the last moments of the sunset.
Day 6: Final Day
8 hours
22 miles
            On the soft manicured grass of the campsite, I slept hard – but I knew I would pay for the grass in the form of mosquitoes the next morning. They were there when my alarm went off at 4:30, daring me to pack up my boat before the sun rose. So I suited up, putting on my rain gear. This was the only time I used my rain gear the entire trip – as a mosquito barrier. I packed up, the cloud following me down to the dock, and rowed out north into the bay. They were cowardly mosquitoes though, and abandoned me a few hundred yards away from shore. I did my morning routine on the water – sun clothes, shoes, gloves, hat and hair – and drifted very slightly north. A tailwind, a tailwind! The forecast called for SE winds later in the day, and it would be the first tailwind I had the entire trip, on the last day.
            I rowed uneventfully across Espiritu Santo Bay in the flat water, enjoying the sunrise and my last day of rowing. After the choppy waters of the last three days, it was nice to row with little worry across the calm bay. With less than 20 miles remaining on the course, I took a moment to thank the waters for allowing my canoe and I safe passage. Being on the water really humbles you, the noise of human society is quieted and you start to listen to an energy of a different frequency. The wind, the breath of the planet, the water its blood. To be allowed to float atop that blood and among that breath is a great privilege, and not a day goes by when I'm on the water that I don't thank the forces around me for the permission to exist within this world.
            I took Fishermen's Cut back into the ICW, all of a sudden finding myself in Port O'Connor. I rowed by the houses, realizing this was the first time I had been this close to a town since I left Port Mansfield those 6 long days ago. Upon exiting the ICW to the east, I hung a left and started rowing north along the beach. It was late morning on a Saturday, and beachgoers were already out wading in the shallow water, enjoying their weekend on the Texas coast. I rowed just outside of their swimming range, people watching. I saw a group of parents wading and pushing their young children in kayaks. The kids stared at me wide-eyed, and I waved. Perhaps one of those children will paddle out into deeper waters when they are older, and find what I find out here. The next generation of adventurers.
            A wind had begun to pick up from the SE, and I was pushed lightly along with a quartering tailwind. The beach faded out, and I was on the home run to the finish line. After struggling to get to the finish, all of a sudden I didn't want to finish. I told myself to remember this feeling, and remember how quickly I can get back in my boat and transition again back to a life on the water. I'll be back, I promised the water, promised myself. I'm doing everything I can on land so I can come back out to a life on the water – and live and row there for a long time, in a bigger rowboat, on much bigger waters. I'll be back.
            A few sailboats paralleled my course much further out, also heading for Magnolia Beach where we were to finish. I recognized "Patricia" and the sailboat with a broken mast, both who had been at Army Hole with me last night. I could almost smell the BBQ lunch. Magnolia Beach came into view, and now the tailwind really made itself known, the waves thinking about starting to whitecap. The Edna and I rode the waves, her bow sighing gracefully down the troughs and making happy little burbling sounds. I stared rowing by the beachgoers of Magnolia Beach, and saw some people waving me down. I almost overshot the finish line! I changed course and rowed right up onto the beach, the waves giving me a little extra push. A small crowd of TX200 sailors had gathered, and they cheered when my bow plunged into the sand. It was 2:08pm, and the BBQ was scheduled for 2:00. I had reached every goal I set for myself. I raised my arms triumphantly. I had just rowed the Texas 200.
            I don't know how many people thought I would make it – I myself didn't know if I would finish – but now there were no doubts. The TX200 can be rowed solo by a 115 pound woman in a canoe. I never got an official head count at how many boats finished, but I learned a lot of people pulled out prematurely. 88 boats had arrived at Port Mansfield, two sank before they left the docks, and out of those that started, I was told only 20-30 made it to the finish. Of those that finished, only 2 that I know of did it without the use of a motor or got a tug.
            Now, I'm not criticizing anybody to pulled out early or used motors. I viewed the TX200 as a challenge, while a lot of people do it just for fun. The moment it's not fun anymore, then there's no use doing it if that was your goal. If this was a race, and people approached it with the attitude that there would be suffering, then I'm sure a lot more people would have finished. To me, it was a race. A race against myself, a challenge to see if I could achieve my goals, and a test of my physical and mental endurance.
            The only other boat I know to finish this year without use of a motor was Pat Hollabaugh, a older sailor who arrived a couple of hours behind me in a little wooden boat with a beautiful square sail and no motor. He looked about as rough as I did, and I had much respect for him. I marveled at his boat, watching his experienced hands pull the lines and let down his weary sail after he docked. I haven't spent much time among sailboats, and I curiously inspected his boat, asking questions about the mast, the lines, the freeboard. There is a lot of crossover between flying airplanes (I'm a pilot of 9 years) and sailing; hydrodynamics and aerodynamics are very similar, just a different medium. The thought of working with both the wind in the sail and the water in the rudder and freeboard was interesting, exciting, and a little scary. Nature is so powerful, the thought of trying to harness that power was a bit unnerving. I was comfortable rowing, and letting nature do its thing around me while I just sort of fight my way the best I can through its awesome forces. Perhaps later in my life, when I am older and my body is tired of fighting with the oars, I shall pick up sailing. But for now, with this young body, I'll keep rowing.
            Though a lot of people had gone home some days before, it was a good gathering at the BBQ. The Magnolia Beach volunteer fire department served food, and I wolfed down meat and beer. I tried to talk to as many people as I could; I knew a lot of people had been following my progress and I didn't want to offend anyone by not giving them some of my time. A few other sailboats, including Pat, arrived while we were there, and I enjoyed being a part of the welcoming committee like I had been welcomed earlier that day.
            A nice woman gave me a ride back to my truck a mile away, and I dismantled Edna, loading her up for the drive back to Louisiana. She had shells and sand inside her, and salt all over. So did I, and I gave her a fond hug. Good job, old girl.
            The BBQ was dismantled, and I stood around, supposing I should start driving back but not really wanting to. I was approached about a sort of after-party at a beach house nearby and readily said yes. I wasn't ready to go back quite yet. The after-party was where I needed to be, and I had a great time that night sitting around drinking some more and making new friends. This group of people – all the TX200 sailors – had welcomed this skinny young woman without a sail into their group, and I was happy to have found a new community of water people outside of my River Family. For years, I've been travelling down the rivers, and like all rivers do eventually, I have begun my transition to the sea. My River Family will always be close to my heart, but now my waters have grown to include the world of sailors, of beaches and reefs, ocean wind and the ever-present taste and smell of salt. My rivers have ended, but my journeys on water are not even close to being over. Here's to the next chapter, as I spend a year making boat payments on an ocean rowboat, pushing my little rowing canoe and I further than we have before, and looking south into the vast blueness of the open sea…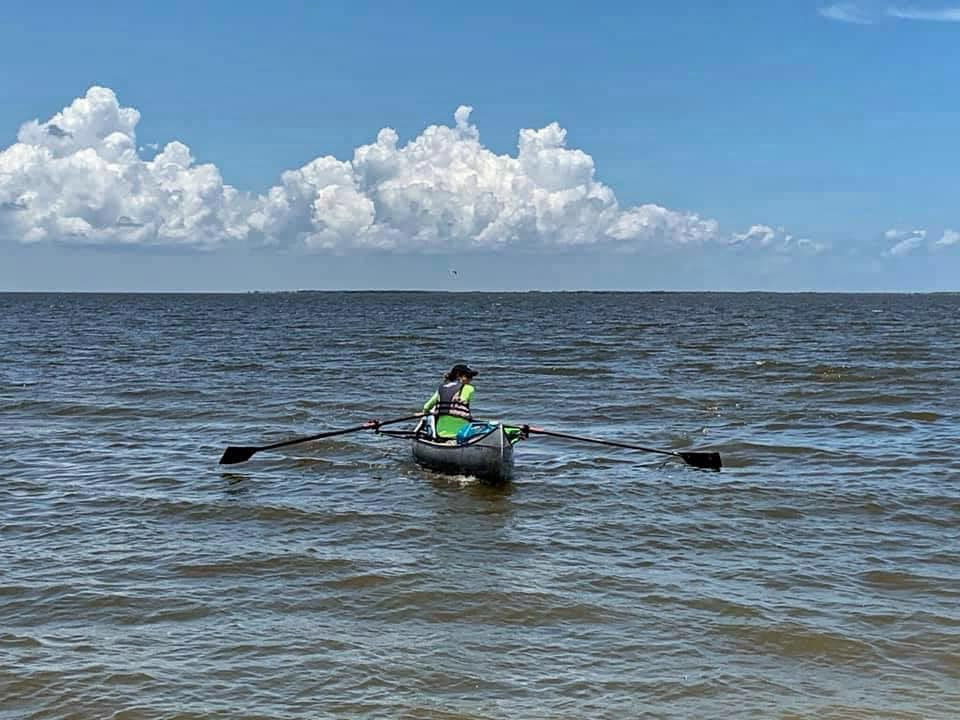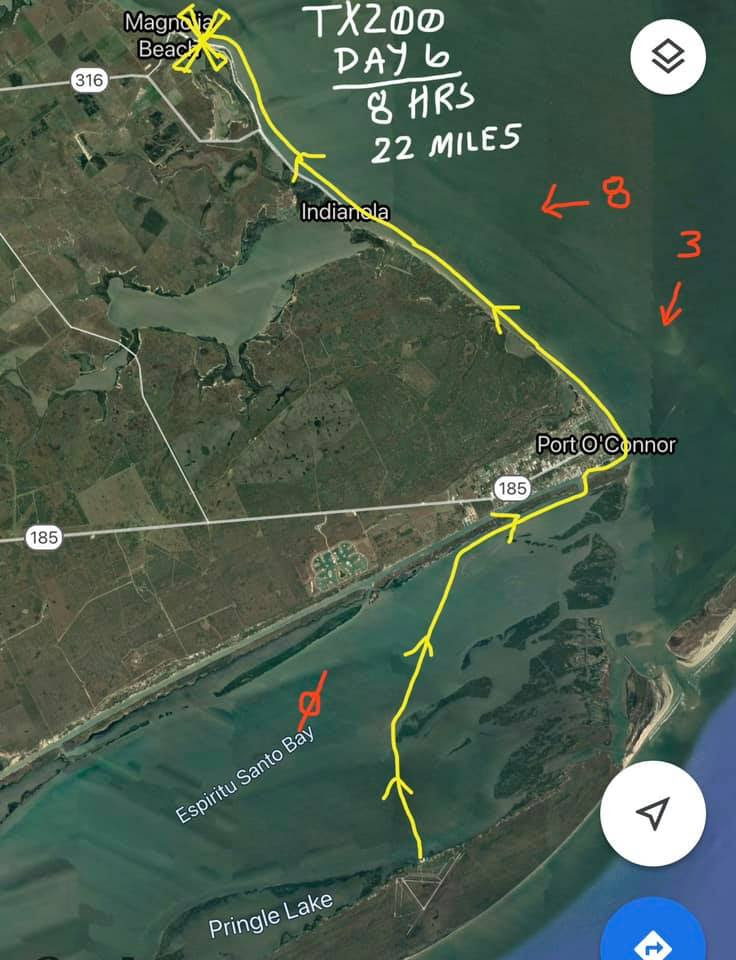 Until next the adventure,